projects
This area of our website introduces our visitors to a number of our different projects and services. Each section below takes you to selected examples of our work. Come back to see the various styles of Garden Design, Architectural and both Hard and Soft Landscaping Design that we have undertaken.
AB Landscaping Ltd specialise in the design and construction of domestic gardens and driveways, from small pocket gardens to larger, more expansive properties. Using a wide range of quality materials ranging from handmade, reconstituted stone to natural stone, installed by skilled landscapers. We are passionate from the concept to completion.
We strive to exceed your expectation of your completed garden, while keeping you informed as the project develops. Maintaining a tidy site at all times with minimum disruption to you and your neighbours.
In fact many times we have carried on to the landscaping of neighbours' gardens as they have had the opportunity to see works carried out by ourselves.
Our projects have been commissioned for sites of all sizes, from small driveways to larger, grander locations.
We treat each project individually and bespoke in design. However, if you are interested in any of our previous projects then we would be pleased to customise it to your specific location and circumstances.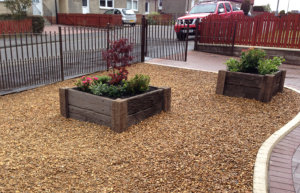 Front gardens can gain that kerb appeal and be transformed into very attractive creations.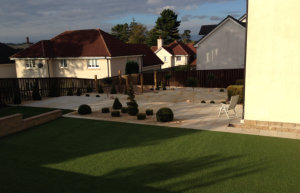 Transform a larger rear garden into an elegant outdoor feature and ideal for outdoor living.